As we welcome the new year of 2023, we are met with the transformative full moon in Cancer. With the zodiac of Cancer already being ruled by the moon, the energy of this emotionally driven sign is heightened, offering us insight into our inner world.
Cancer is connected to the element of water and an emotional, creative and intuitive sign, offering us the opportunity to connect to that which wants to be brought to creation; whether that's a new project that has been sat beneath the surface just waiting to be brought to light, perhaps a new creative endeavour, or the opportunity to express ourselves in a new, more authentic way, this full moon is asking you to get to know yourself in a more intimate and honest light.
More subtly, this moon will assist you in allowing your inner voice to come to the surface, it offers you the opportunity to express yourself more authentically within your relationships, and learn to tune into and trust the guidance of your emotions.
With this in mind, these next few days offer the perfect opportunity to get out a journal, drop into your body and allow your intuition to guide you. Towards the end of this blog post, I have included a number of journal prompts that will assist you during this time.
As we navigate Capricorn season (December 21 - January 20), the energy of this sun sign is business-minded and we often feel driven to focus on building our wealth, strengthening our status or focusing on our career.
Thankfully, during what can be deemed as quite a cold month emotionally, this full moon in Cancer comes along to offer us a deep breath. It's asking us to find softness during a time that is usually a little rigid, and remind us what is at the root of all we are working for.
With this in mind, it's the perfect opportunity to ask yourself 'what is it that truly lights up your soul', and question whether your current goals are driving you closer towards this, or perhaps taking your time and attention further away.
At it's essence, the key takeaway from this full moon is that we are being encouraged to express what rests in our hearts, and connect to the depths of ourselves without fear. With the sun in Capricorn during this period of time, and Mercury in retrograde, we are being asked to consider how we can be authentic in our expression in a new way. This period of time can help us explore new ways of communicating authentically, sharing new perspectives, and making important realisations.
The warning this brings is to be cautious, to be mindful how you express yourself and consider how it will effect your future. Set the intention to be present with your words, actions and choices, ensuring they are authentic to you, and that they support the vision of yourself, and life that you are hoping to create.
Call to action:
In the time of the full moon, it is the perfect time to meditate and let go of what no longer serves you, as it will allow you to let go of the clutter that distracts you from the true essence of who you are. Commit to understanding what speaks to you at your core, and allow that to guide you.
Journalling during this full moon offers you great insight into your inner world. Set up a space that feels soothing, and stress free. Take a moment to find your breath, and drop into presence as you let your intuition guide your answers:
Prompt 1: How am I able to express myself more authentically?
Prompt 2: What decisions do I make daily that are out of alignment with the version with my truest self?
Prompt 3: What is it that drives me, at my core, and do my current goals bring me closer to this?
Finally, explore your creativity, find new ways to express yourself. If you feel called to dance, sing, paint, honour that calling.
You may feel inspired to start a new passion project, or explore a new hobby. Whatever it is, now is the perfect time to dive into it.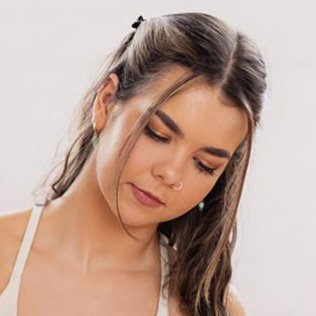 Written by Lauren Holmes and published on Saturday 7th January 2023 at 08:00